PBV and NJ state park police 3rd annual toy drive.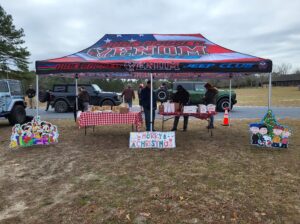 For the past 3 years Pine Barren Venom Jeep Club, NJ State Park police, and Burlington County K9 search and rescue have joined forces to raise donations for the local families of the less fortunate to help provide these families with a great Christmas. Jeep clubs as well as other local car clubs came in strong this year. The local church who disburses the bounty has reported that with this year's donations Santa will be able to visit even more families than before. PBV member volunteers unload vehicle after vehicle of toys from Santas special elves to load the trailer with joy.
In conjunction with the event, a special group of elves took donations from many town residents as well as others across the country to "Stuff the Jeep". This spin off of the toy drive takes money donated to the event and sends Santas elves out shopping. With the proceeds from "Stuff the Jeep", our elves came with the doors Busting open, this Jeep pulled up packed and ready to give cheer.
PBVJC is proud to be a part of this event each year and is proud of our members and all who participated. Without the hard work of the volunteers and the loving hearts of the donors, this event would not be such a success. We send a huge thank you out to all involved!