"An Old Fashioned Christmas" was the theme at the 2022 Hammonton Christmas parade. This well organized parade was presented by the fire departments in the town. Thousands of spectators lined the parade route in hopes to see the "Big Guy" belly full of jelly and all.
      Parade contestants came and danced their hearts out while others wave from the floats they so proudly made. Everything from horses and tractors and those beautiful fire trucks brought smiles to the spectators faces as they dazzle the crowd.
      PBVJC fit right in on the parade route with the excitement. Having over 70 beautifully decorated Jeeps the row of awesomeness seemed to never end.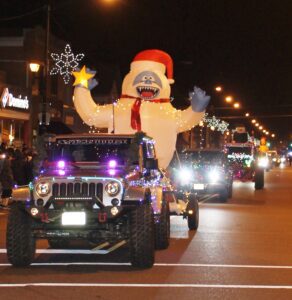 PBVJC sporting "The Island of Misfit toys" as their theme, dazzled with lights, sound, and amazing decorations on the club members Jeeps. From Jeeps simply beautifully lit up, to Charlie in the box and Yukon hunting a Bumble strolling the streets, the members of this fun club showed their "A" game.