To say that times are tough is an understatement. Now more than ever the community needs help. As the saying goes, "when the going gets tough, the tough get going". This is exactly what Pine Barren Venom Jeep Club members and members of the community did with the "Jeepers Care" first annual food drive.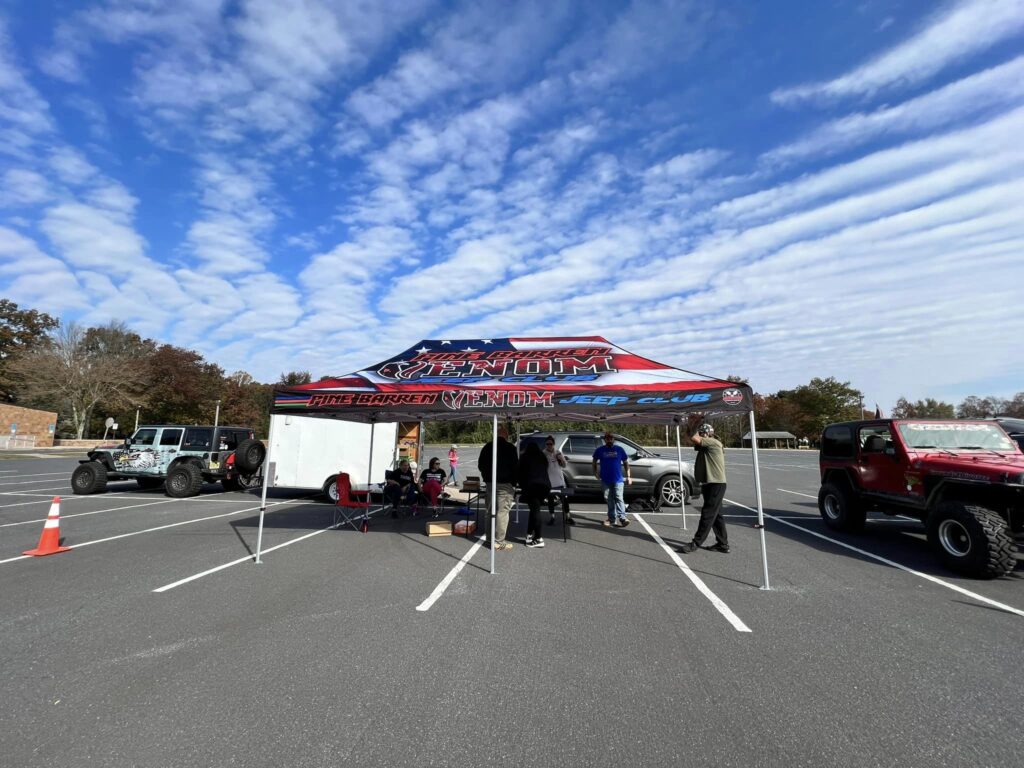 Helping hands all around!
     PBVJC hosted their 1st annual "Jeepers Care" food drive recently. This event is yet another great part of the journey with PBVJC and their charity efforts. Pine Barren Venom Jeep Club is proud to work with The Community Food Bank of New Jersey as well as members of the community. You can pitch in simply by clicking the CFBNJ picture!
      Pine Barren Venom Jeep Club sought out to join in on the efforts to help those who are less fortunate in our local communities. There are many wonderful food drives that happen all year long in various states. Commendable efforts by many people in various locations to do their part. CFBNJ handles all of New Jersey, this made their organization a clear choice for PBVJC to volunteer with. Based out of New Jersey, PBVJC makes conscious efforts to support local charities. CFBNJ has a ton to offer. From food and nutrition programs, resource access programs. and workforce development, CFBNJ covers a broad spectrum. All this while helping food pantries and churches give to the needy. They even help our furry friends too. 
Proud to be a part of this.
It never ceases to amaze people how genuine, giving, and heartfelt the members of PBVJC really are. Stepping out and stepping up whenever and wherever they are needed. The members of PBV truly make it a great club and non-profit organization to be a part of. Pine Barren Venom Jeep Club is constantly growing in the right direction and the members are to thank. PBV members lead by example and hold their heads high knowing what they are a part of. Some coming from over two hours away for this event to bring their donations. Any organization is only as good as its members. PBVJC has some of the best members on the planet. For the first annual food drive where PBVJC was at the helm, it was a spectacular showing and an overall donation to CFBNJ to be proud of. Taking in a whopping 1535 pounds of food.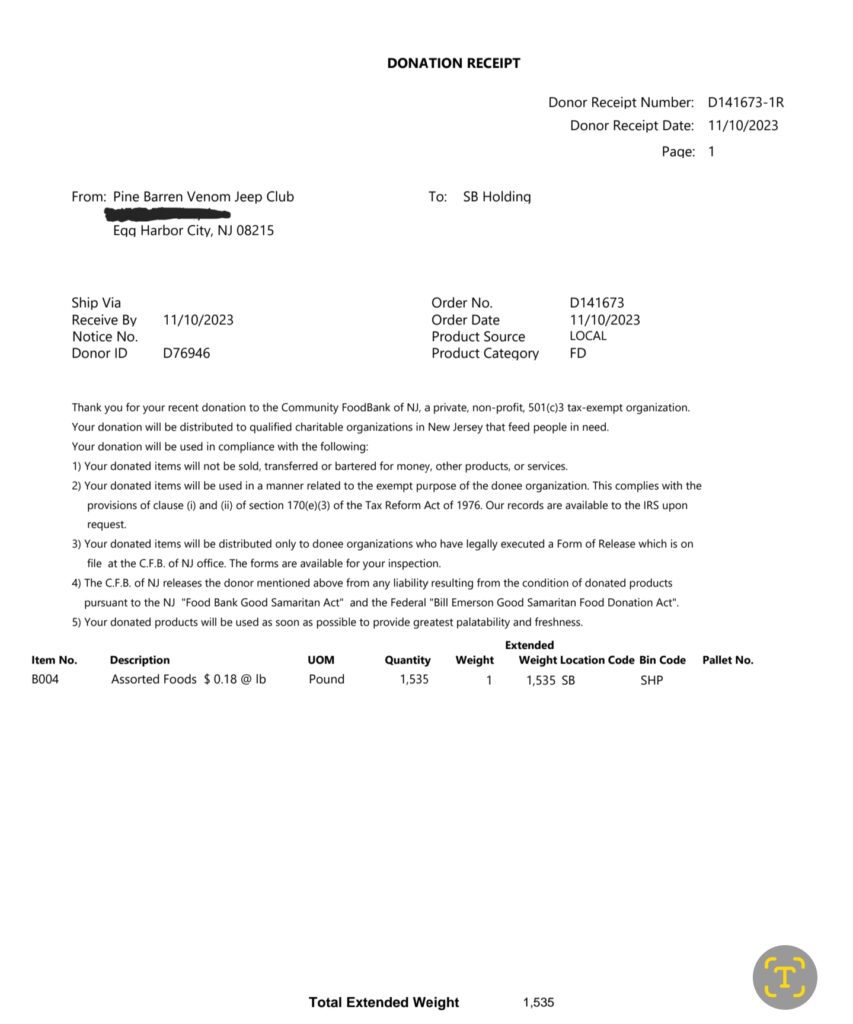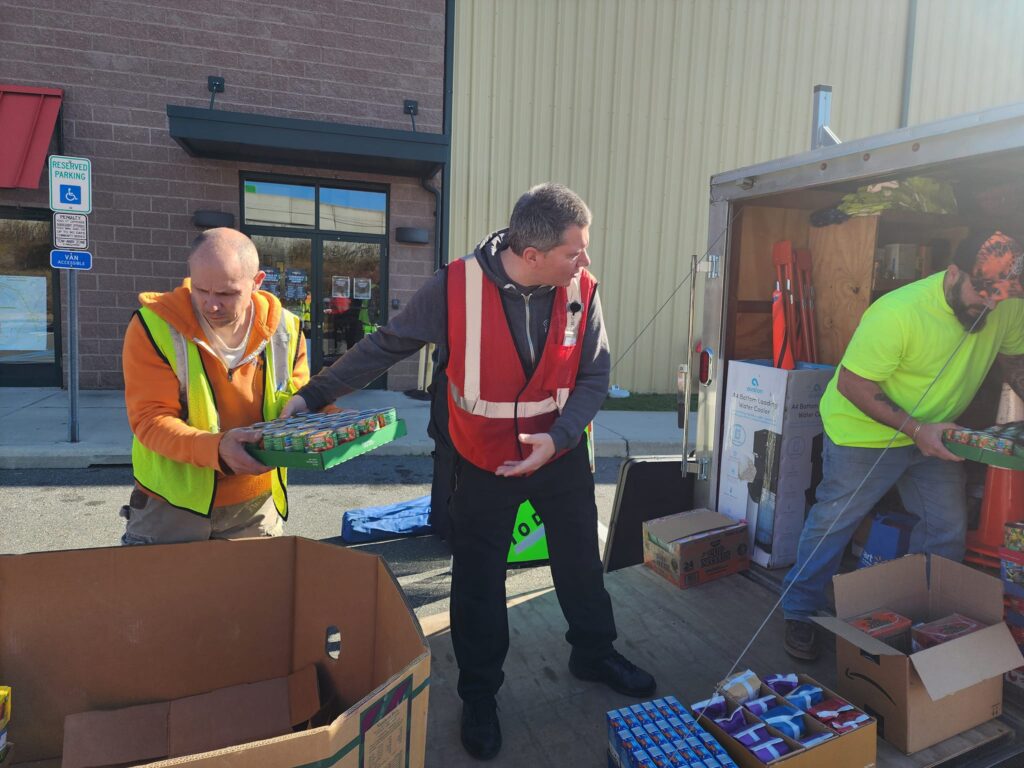 The Jeepers Care food drive was a huge success. These efforts from the PBVJC members were capped off by the true class and generosity of the owner of the location where the event was held. Kathedral event center in Hammonton NJ. Where they welcomed this event on their property with open arms. The club members, members of the community, the Community Food bank of NJ, and Kathedral event center all deserve a huge THANK YOU. THANK YOU for making this community outreach event a true success and one that will be carried out for years to come.